If you're budget sensitive and really want a mobile pico projector, the latest Miniview LED projector from Chinavasion may be a fit. The main features that it boasts is having a variety of input connections and its mobility.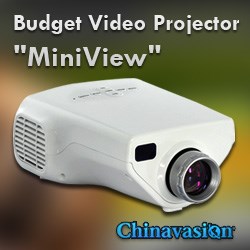 The MiniView does not have batteries and does requires a power cord to plugged in to work. Shinning with a 55 ASNI Lumens this project has a price tag of $69.91.
"With an 100 inch wide projection, 200: 1 contrast and 1.67 million color projection the Miniview is a high performing video projector," says Rose Li, PR manager for the projector specialist.
While this may not be the brightest in the bunch it has been doing surprisingly well in the market. One of its key features to talk about is the coaxial input allowing the user to connect their cable or satellite feeds directly into the projector.
Here is the list of inputs:
1 x Antenna
1 x Micro SD Card Slot
1 x USB
1 x HDMI
1 x VGA D-Sub 15pin
1 x Composite
1 x EF
So the question you have to ask yourself is if the MiniView's functionality and low price outweigh a competitor's brighter display, higher price, and in some cases better mobility (battery powered)?